Our Story
Hi, I'm Mike Schoenberger, founder and CEO of Sunco Communication and Installation Ltd.
Telephones have been in my family's blood for as long as I can remember. My father, Paul Schoenberger, was a telephone cabling contractor back in the 80s and I started working for him when I was only 17. I am proud to have learned under one of the best. My Dad was known for his technical know-how, his ethics and honesty and his commitment to hard work.
After he retired in 2000, my wife Jackie and I took over the business and started Sunco in Edmonton, AB (where our home office still is). Along with my cousin and now business partner Sean, we continued to grow our little phone company and welcomed our third business partner, Jason Ma, into the fold in 2012. Over time Sunco has expanded to provide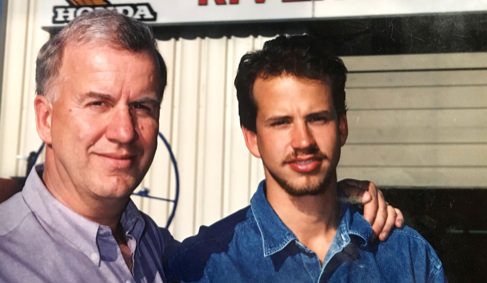 full-service telecommunication solutions—from a selection of business phones and phone systems to installation and friendly, in-person support. We love what we do and we are proud that our family has been helping businesses in Edmonton, Calgary, Vancouver and across Western Canada for almost 20 years.
Our success comes from the fact that we take the time to really understand our customers' needs and work with them to find telecommunication solutions. We call this being Dialed into your Business. We like to think of ourselves as trusted advisors—our team has been working in the communication sector for a long time, and when it comes to phone systems and telecommunication, we've seen it all.
Many of our team members have been with Sunco since the beginning, and many of our clients have as well. We all care deeply about our work and are passionate about communication. We're a family and a close-knit community, not just another faceless company, and we're proud to put customer service at the core of everything we do.
"Sunco is more than just a telecommunications company: we strive to be a long term partner, continually growing along with our clients."
My father passed away suddenly in 2003 before he could see how far Sunco Communication and Installation could grow—from three of us working in my basement to now a thriving Alberta business with a 4,000 square foot office and 19 staff today. I know he would be proud that his legacy of honesty, integrity, and hard work is alive and well at Sunco.
We're here to help, whether you are looking for a VoIP solution, a traditional phone system or just some fast, friendly telecommunications advice. Give us a call anytime.
Thanks for reading,

Our Promise
As your trusted telecom systems integrator, we promise to deliver:
A communication solution that works for your business needs
Dedicated sales reps that you can count on to be there long term
Professional and friendly customer service
Timely responses to all messages whether urgent or not
Fair, competitive pricing
Comprehensive education and training
Local and secure hosting
Transparent reviews and feedback
Our Team
We're proud that most of our team has been with Sunco for many years. We don't just install and service telephone systems, we use the same products on a daily basis. Put simply, we know, love, and live our communication solutions.
Jason Ma
Director of Operations
Jackie Schoenberger
Director of Marketing, HR
Cedrick LeBlanc
Director of Sales
Edward Wac
Director of Sales, Calgary Division
Olusegun (Olu) Ajayi
Project Manager
Leslie Stewart
Project Co-ordinator
Heng Chang
Account Manager
Tammy Klemmer
Office Manager
Veronica Schoenberger
Accounting
Wes Schoenberger
Manager, Hosted and Remote Services
Wayne Reesor
Service Manager
Kevin Batten
Mitel Applications Specialist
Tom Cerny
Telecommunication Engineer
Kenny Ho
Telecommunication Engineer
Jason Schoenberger
Telecommunication Engineer
Ryan Pugh
Telecommunication Engineer
We've Got You Covered
Our vast network of trusted contractors expands Sunco's reach to where you need us. From all over Alberta and BC to the rest of Western Canada, our telecommunications team is ready to help.
Our Network
Tap into our network of complementary service providers in information technology, security and mobility. We're truly your one point of contact for all things communication. Ready to get our people working for you?
Join the Sunco Team!
If you have a passion for technology, customer service and working in a dynamic, supportive environment, the Sunco team would love to hear from you.  Please send resumes to jackie@sunco.ca
IT Engineer
POSTED January 12, 2018
STATUS:  May 30, 2018        Position is still open.
We are looking for an individual with exceptional technical and troubleshooting skills who is a self-starter and passionate about IT and telecom. As part of our Operations team, you will be responsible for:
Installation and maintenance of digital, VoIP and video telephony product offerings
Working with SIP trunks, PRI's and analog lines for PBX and VoIP phone systems, both hosted and on-premise based
Conducting computer diagnostics to investigate and diagnose hardware and software problems
Providing exceptional customer service by exemplifying Sunco's Core Values
Mitel system experience an asset
Please read the job description for more information and send cover letter, resume and salary expectations to jackie@sunco.ca.
Administration Assistant
Posted:  May 30, 2018
Sunco is looking for a customer-focussed individual to assist with an array of administrative duties including contract management, sales support and CRM data entry and maintenance.  Eager to learn new systems and processes, the successful candidate will be versatile, able to multitask and be committed to providing exceptional customer service by exemplifying Sunco's Core Values.
Please read the job description for more information and send cover letter, resume and salary expectations to jackie@sunco.ca.